In 2016 Kimberly Monson, an artist and art instructor, was commissioned by the Kate to create the Spirit of Katharine Hepburn Award, a statuette that is presented annually at the Kate's Gala to an individual who embodies Hepburn's bold spirit, fierce independence and distinctive character. Monson sculpted a relaxed Hepburn in bronze, sitting cross-legged in her typical garb of slacks and open-collared shirt.
Each of the past recipients shares a special connection to the legendary actress.
---
2023 – Candice Bergen
Candice Bergen shined as the feisty eponymous broadcast news legend of the critically acclaimed CBS comedy series Murphy Brown, for which she received five Emmy Awards and two Golden Globe Awards over the 10 year run. Like Miss Hepburn, she has the same knack for comedic timing, an "I don't give a darn" attitude, artistic flair, and perseverance through a decades-long career. Through her body of work and the diverse characters she's portrayed, Candice Bergen has challenged the norm, challenged the rules, and shown her own true independent spirit.
View the award presentation and interview with Candice Bergen
---
2022 – Martina Navratilova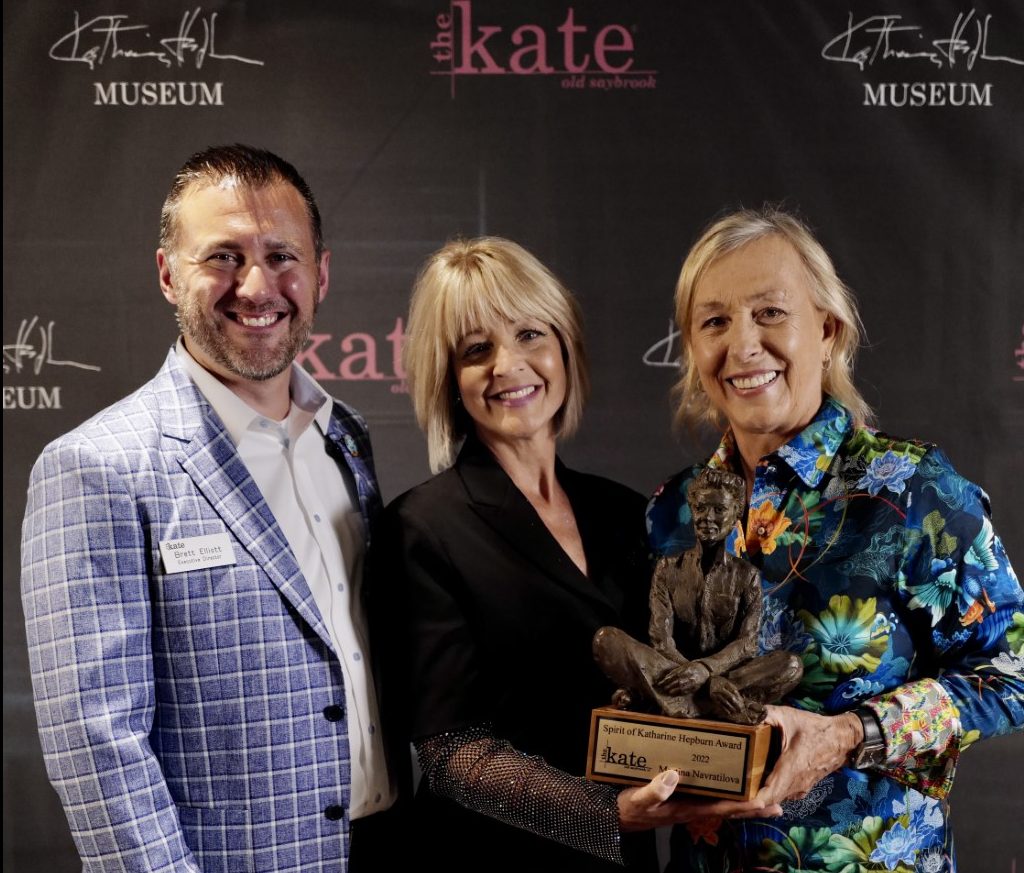 Over a spectacular career that has spanned four decades, Martina won an unprecedented 59 Grand Slam titles, including a record 9 Wimbledon singles championships, 167 singles and 177 doubles championships. Her decades-long rivalry with Chris Evert is considered one of the greatest in sports history, with Martina sporting a 43-37 advantage. Katharine Hepburn was her idol and had been since she learned about her as a young girl in Prague. She admired Miss Hepburn's strength and courage and was impressed that Kate was a fine tennis player, as well, and they became good friends.
View the award presentation and interview with Martina Navratilova ›
---
2021 – Sam Waterston
Sam Waterston's career has included a plethora of film and television credits as well as repeated returns to the stage. His trophy case includes television awards such as the Emmy, Golden Globe and Screen Actors Guild and theater awards like the OBIE and Drama Desk. Other accolades include an Academy Award nomination for his role as journalist Sydney Schanberg in 1984's "The Killing Fields" and six Emmy Award nominations for his roles in "I'll Fly Away" and "Law & order." Recently Sam was a series regular on Aaron Sorkin's "The Newsroom" for HBO and currently he can be seen in the final season of "Grace and Frankie," Netflix's longest running series, opposite Jane Fonda, Lily Tomlin and Martin Sheen.
A longtime advocate for refugee and climate justice, Waterston is Chairman of the Board of Oceana, the world's leading ocean focused NGO.
View the presentation of the 2021 Spirit of Katharine Hepburn Award and interview with Sam Waterston ›
---
2020 – Cher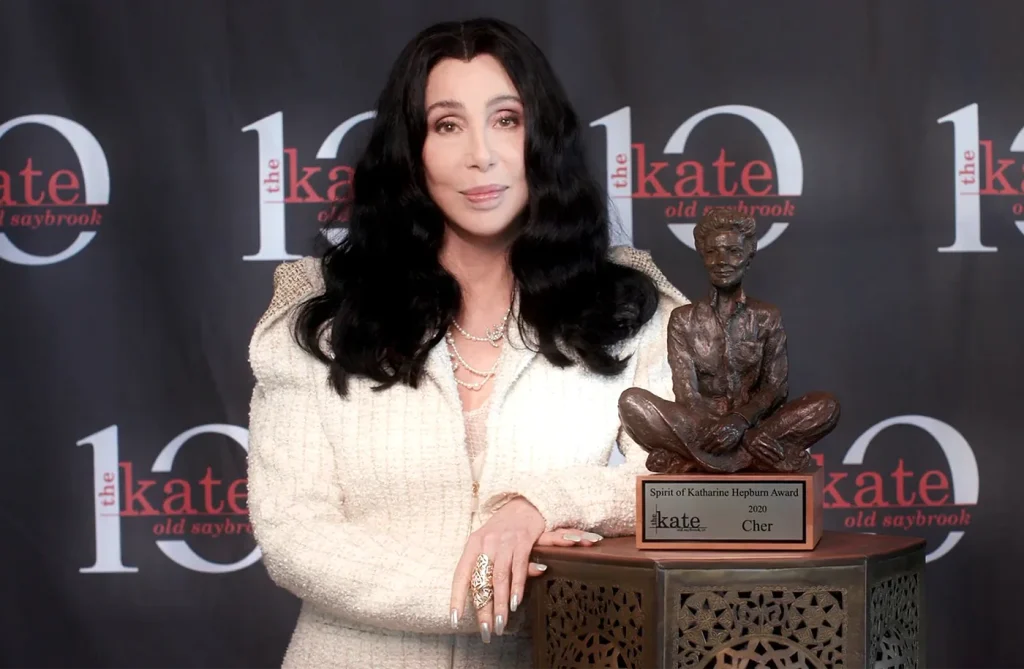 Cher, an Oscar, Grammy, Emmy and Kennedy Center honoree has enjoyed enormous success in the realms of film, TV, music, Broadway and as a global performer. A long time humanitarian, Cher most recently formed CherCares which helps supply much needed equipment to underserved communities. She has often cited Katharine Hepburn in scores of interviews as an inspiration throughout her career.
"Katharine Hepburn had an unbeatable combination of talent, determination, authenticity and uniqueness. I am never bored watching her movies over and over again. She keeps me company when I'm on the road," commented Cher during an interview with Turner Classics.
Katharine Hepburn continues to hold the record for the most Academy Award wins in the Best Actress category with four and was nominated twelve times. Cher received her own Oscar for her work in l987s "Moonstruck."
View the Kate's 2020 Virtual Gala: BELIEVE! with an exclusive interview with Cher and presentation of the award ›
---
2019 – Christine Baranski
One of the entertainment industry's most honored actresses, Christine Baranski is an Emmy, two-time Tony, Screen Actors Guild, Drama Desk and American Comedy Award winner. A graduate of the Juilliard School, Baranski received her big break in Tom Stoppard's hit Broadway comedy "The Real Thing," directed by Mike Nichols, for which she won a Tony Award and Drama Desk Award.
Ms. Baranski went on to earn a second Tony Award for her performance in Neil Simon's "Rumors." She also won an Emmy, American Comedy and SAG Award for her role in the hit series "Cybill," in addition to three subsequent Emmy and Golden Globe nominations. She received a total of 5 Emmy nominations for her guest roles on "Frasier" and "The Big Bang Theory." As the formidable "Dian Lockhart," Ms. Baranski received six Emmy nominations and two Critics' Choice Television Award nominations on CBS's "The Good Wife." She currently stars as the character in the critically acclaimed spin-off "The Good Fight" on CBS All Access.
As a young intern at the American Shakespeare Theater in Stratford, CT, Ms. Barnaski was inspired by Ms. Hepburn's portrayal of Rosalind in "As You Like It."
View Ms. Baranski's acceptance speech (with introduction by Duby McDowell) ›
---
2018 – Ann Nyberg
A resident of Madison, Ann Nyberg is WTNH-TV's longest-serving anchor/reporter in station history and has been nominated for multiple Emmys. In addition to anchoring several evening newscasts, she also produces and hosts the show "Nyberg," an on-air and online show she developed to get people's stories out to the masses.
In November of 2015, Ann was inducted into the prestigious Silver Circle of the National Academy of Television Arts & Sciences (NATAS) Boston/New England Chapter—an honor given to television professionals who have made significant contributions to their community and to the vitality of the television industry. In 2017, Ann was recognized, during the year of Harper's Bazaar Magazine's 150th anniversary, as a woman of success who pays it forward.
Ann has been a storyteller her entire life, which all started with a diary her mother gave her for Christmas when she was just 8 years old, and the rest is history. As she says, "I never met a story I didn't want to tell." Her first book, Slices of Life, A Storyteller's Diary debuted in October 2015, and is based on her diary. Her second book, released October 2016, is on the legendary Connecticut film actress, Katharine Hepburn. It is called Remembering Katharine Hepburn: Stories of Wit and Wisdom About America's Leading Lady.
---
2017 – Glenn Close
Glenn Close is a seven-time Academy Awards nominee and winner of three Tony Awards and three Emmys. She made her feature film debut in The World According to Garp, for which she received an Oscar nomination. She was subsequently Oscar-nominated for The Big Chill, The Natural, Fatal Attraction, Dangerous Liaisons, Albert Nobbs, and most recently, The Wife. Ms. Close won two consecutive Emmys along with a Golden Globe Award, and three SAG nominations for her portrayal of 'Patty Hewes' on Damages. She won a third Emmy for her title role performance in Serving in Silence: the Margarethe Cammermeyer Story (for which she also received a Peabody Award as executive producer).
In 1974, Close made her professional, theatre, and Broadway debut in The Phoenix Theatre's Love for Love, directed by Harold Prince. Over her forty-three year career, she has always returned to the theater, receiving Tony Awards for Death and the Maiden, The Real Thing and Andrew Lloyd Webber's musical Sunset Boulevard, as well as an Obie Award for The Singular Life of Albert Nobbs. Last spring, Close made her London-West End debut in a new production of Sunset Boulevard, for which she won a London Evening Standard Award and was nominated for an Olivier Award. She is presently starring, to great acclaim, in that same production, on Broadway.
Ms. Close's decision to continue in the acting profession in part stems from viewing one of the most famous and first ever television interviews with Katharine Hepburn conducted by Dick Cavett in 1973. Miss Hepburn became an inspiration to Ms. Close and welcomed this role, finding small ways to support Ms. Close through communications and appearances at events honoring Ms. Close.
---
2016 – Dick Cavett
Mr. Cavett has lead a life of insight and humor, and is arguably best known for his self-named talk show 'The Dick Cavett Show' and his remarkable ability for in-depth and sophisticated interviews and conversation. His television show boasts one of the most famous interviews with Katharine Hepburn, who rarely agreed to interviews.
"One of the facts of life of doing a talk show is that some of the most interesting people in the world won't do them. One of them is Katharine Hepburn," Mr. Cavett said at the opening of his now famous two-part interview with Miss Hepburn in 1973 on The Dick Cavett Show. "She has spent most of her life avoiding the press and I wish I had a nickel for every time someone has said, 'Wouldn't it be wonderful just to sit and listen to that woman talk?' Well, one afternoon recently, never having been on television, she agreed to come into my studio for a test only to check things out to see how it looked and felt. She checked the cameras, the lights, these chairs, the temperature in the studio, she pronounced the carpet ugly and then she surprised me by suddenly saying, 'Why don't we just go ahead and do it now?' And we did."